Cranks | Kid Cranks | Bottom Bracket | Rims | Brake Boosters | Cable Separator | Wheels | Stoker Stem | Derailleur | Maintenance Items |
---
da Vinci Designs Direct Drive
American Made Billet Machined Cranks
(150mm to 200mm + 3 hole cranks)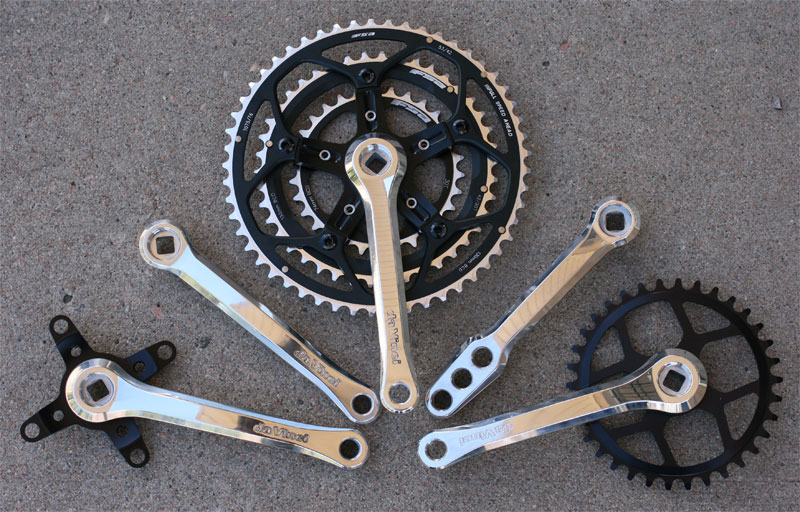 Click on the photo for a larger size
430 grams – Reduce rotating mass without any sacrifices
Impressively Stiff – All your energy goes into every pedal stroke
Single Radius Crank Profile – Allows chainring, front deraileur, chainstay, and ankle clearance while increasing strength and stiffness
Tapered Crank Arms – Put the strength where it is needed and reduces weight
Replaceable / Interchangeable Spider – When the industry changes, or you change your chainring pattern, you don't have to replace your cranks
No Creaking – Design eliminates the creaking associated with three piece cranks
Low 158mm Outside to Outside Q-Factor – Easier on your body
Low Profile Bottom Bracket Spindle – Increases stiffness and reduces weight by using a shorter spindle.
103mm spindle for road bikes
107mm spindle for mountain bikes
103 to 107mm spindle for tandem captain cranks (you can go wider if you like)
107 to 113mm spindle for tandem stoker cranks
Lengths Available– 150mm -160mm – 165mm – 167.5mm – 170mm – 172.5mm – 175mm – 180mm – 200mm – (130/150/170mm) or (120/140/160mm) Triple Hole Child/Full-size-person Cranks
Spiders Available
– Four Arm 104mm – 64mm
– Standard (or compact) 110mm – 74mm
– Special 110mm – 58mm  for those that want to run a chainring smaller than 24 tooth
– Road 130mm (with 74mm triple option)
– Road 130mm without 74mm triple option
-34 tooth Spider/Chainring. This is a replaceable one piece spider/34 tooth chainring. It is lighter, less expensive (no need to buy chainrings and chainring bolts) and perfectly concentric.
Retail Prices
Single Bike or Tandem Front –
$240 Any length*/Spider combination w/o triple hardware
For triple chainrings you will need inner chainrings bolts and spacers. Price varies
*200mm Single Bike or Tandem Front $270 – your choice of spider
Tandem Rear –
$280 Any length*/Spider combinations.
Complete Tandem Cranks – Front and rear cranks (any sizes we make),
34 tooth Crossover/Spiders
FSA ramped and pinned chainrings, your choice (54, 53, 52t Outer), (42, 39t Middle), (32, 30t Inner)
$590* Add $30 for 200mm cranks
Replacement 34 tooth Spider/Chainring – This replacement chainring only fits da Vinci cranks. $40
---
Includes our three hole cranks from above (130/150/170mm or 120/140/160mm), sliding bottom bracket, spindle, your choice of spider, chain, and hardware. (This is all you need for a da Vinci tandem. A conventional tandem will require a second chainring, long chainrings bolts and spacers between the two left rear chainrings
Click on the thumbnail for full size photo
(pictured with old cranks, you would get the cranks above)
---

Bottom Bracket
$42 ChroMo Spindle – 215g
$117 Titanium Spindle – 160g
High quality JIS square taper bottom brackets with sealed bearings, carbon fiber body, and aluminum cups
Available in 103mm, 107mm, 110mm, 113mm, 118mm – For 68mm shell
Click on the thumbnail for full size photo
---
da Vinci V-23 Rim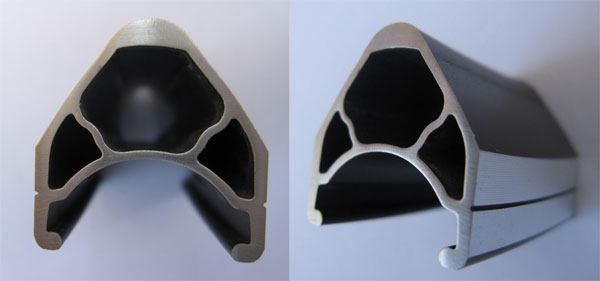 Tandem Duty Rim
2.7mm Thick Spoke Bed for Strength and Longevity
6061 T6 Aluminum Alloy
22.9mm Wide – 24mm Tall
Available in:  26″ 36 hole and 700c 40 hole
26″ ERD 532mm – 520 grams
700c ERD 594mm – 570 grams
---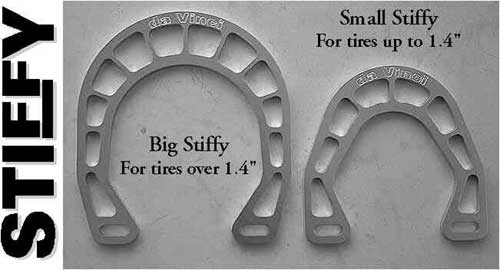 Stress Analysis Designed Brake Stiffener – Use Your Energy to Stop – Not to Flex Your Frame
Improves your braking
Reduced "mushy" feeling at your brake levers
Reduce brake squeal
Now available in Black
We spent several tedious months on the design of these brake boosters. Trial and error with sophisticated stress analysis software — shaving a few grams here, adding a few grams there, until we came up with the ultimate design of stiffness and light weight.
Brake stud spacing range 70 to 92mm (2-3/4″ to 3-5/8″)
Big Stiffy (62 grams) for tires over 1.4″. The stiffest big tire brake booster we have experienced. It's not the lightest, but are you looking for a piece of jewelry for your bike or something to improve your braking?
Small Stiffy (47 grams) for tires up to 1.4″. The Stiffest & Lightest brake booster around. If you are running skinny tires, there is no other choice.
Retail Price $28  *** OUT OF STOCK ***
---

Easy-Split In-line cable Separators (aka Splitters, disconnects)
Quick – Simple – Light – Reliable – Easy Installation
Standard Kit Includes: (2) Shift Cable Separators (1) Brake Cable Separator (1) 2mm Allen Wrench
Retail Price $38
Shifter Kit Includes: (2) Shift Cable Separators (1) 2mm Allen Wrench
Retail Price $26
Brake Kit Includes: (1) Brake Cable Separators (1) 2mm Allen Wrench
Retail Price $14
Easy-Splits also work for quick handlebar conversions.
If you have compatible road and mountain shifters and derailleurs, as well as compatible brakes. You could easily switch between road and mountain bars for different types of riding.
Bar Switch Shifter Kit Includes: (2) Shift Cable Separators (2) Extra male halves (1) 2mm Allen Wrench
Retail Price $39
Bar Switch Brake Kit Includes: (1) Brake Cable Separators (1) Extra male halve (1) 2mm Allen Wrench
Retail Price $20.50
Easy-Split Replacement Hardware
It is a good idea to replace your set screws when you replace the cables, or with the 2nd time you replace the cables. Only use a good sharp 2mm Allen wrench (Hex key) to reduce your chances of rounding out the set screw.
---
Pro Built Tandem Wheels 
* Rims are now black with machined sidewalls.
26″ V-23 rims 36 spokes (more than enough for these rims) or 700c V-23 rims w/ 40 spokes.
Sapim Spokes. 14/15g (2.0/1.8mm) or 13/15/14g (2.3/1.8/2.0mm) for disc brake wheels
White Industries Hubs
Professionally hand built with Spoke Prep to reduce spoke loosening and pre-stressed (spokes are over-tensioned by hand to pre-stretch them). Also to reduce maintenance.
Available with black hubs and spokes
26″ Front Wheel $225
26″ Disc Front Wheel $255
26″ Rear Wheel Disc or Drum $470 (now with titanium Cassette Body)
* Add $20 per wheel for black hubs and spokes
700c Front Wheel $230
700c Disc Front Wheel $260
700c Rear Wheel Disc or Drum $475 (now with titanium Cassette Body)
* Add $20 per wheel for black hubs and spokes
And for the gram counters – 840 grams Front – 1060 grams Rear – Not bad for full blown tandem wheels, ready for years of trouble free service.
Add 58 grams per wheel for 700c

---
Control Tech Adjustable Stoker Stem $95
Seatpost clamping diameter 29.8mm or 31.6mm
27.2mm and 28.6mm shims for 29.8mm post are available.
Handlebar Diameter:
26mm (also works with 25.4mm) or 31.8mm (O.S.)
Length:
Long Boom (uncut range 200mm to 255mm)
Minimum stem length (after cutting) 155mm to 210mm
X-Long Boom (uncut 235mm to 320mm)
Click on the thumbnail for full size photo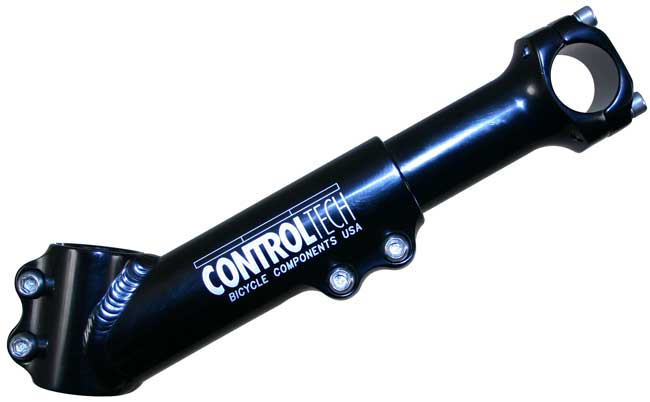 Shim to Fit Stoker Stem to Different Diameter Seatposts $7
Use with stoker stem for 29.8mm seatpost.
Spare or Replacement Boom $45 – Extra Long $55
25.4 / 26mm X-Long boom
---
Fixed Length Titanium Stoker Stem  – New length and Black option (photo coming soon)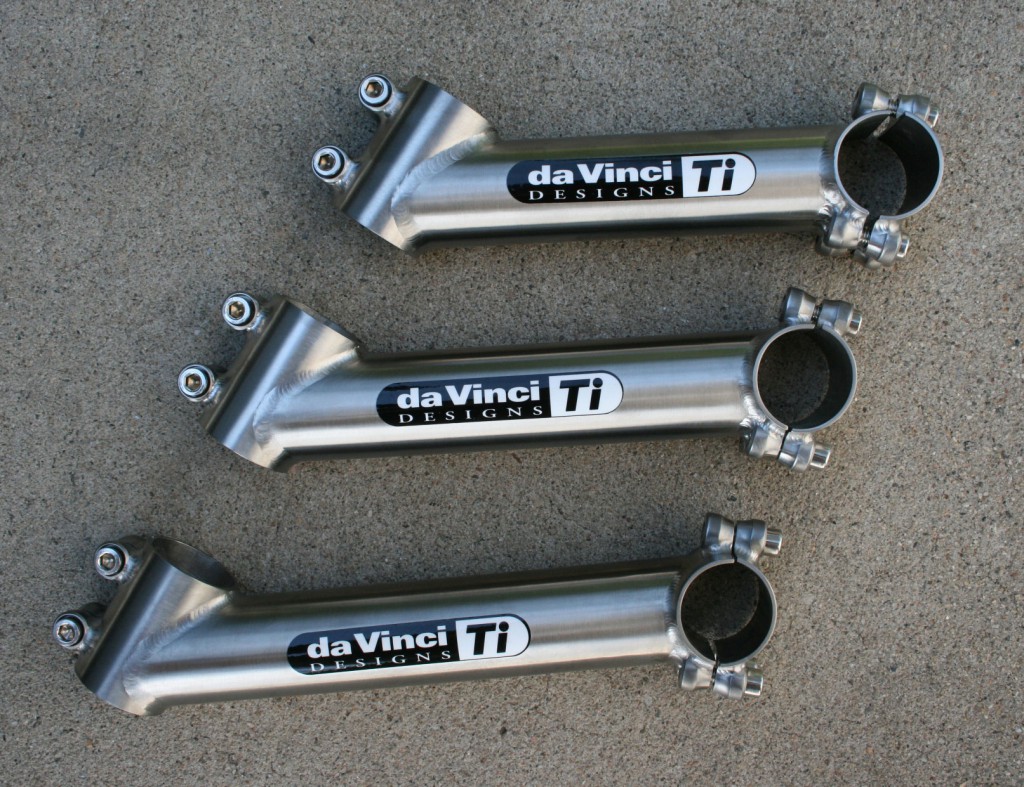 1/2 the weight of an adjustable stoker stem. 188g – $220 (Add $15 for Black)
Click to download full size pdf drawing for sizing. Please print full size.
Available in 160mm, 180mm, 200mm, NEW 220mm Lengths
Available for 31.6mm Seatpost and 31.8mm OS handlebars. Shims for 25.4 or 26mm bars also available. $8
Black Powdercoated Titanium Stoker Stem Add $15
Shim to use 25.4 or 26mm bars $8
---
Custom Rear Derailleur  – Discontinued  – Sorry, SRAM stopped making the derailleur that we modified.
Mix different Shifters with Shimano/SRAM 9 or 10 Speed Cassettes.
Click on the thumbnail for full size photos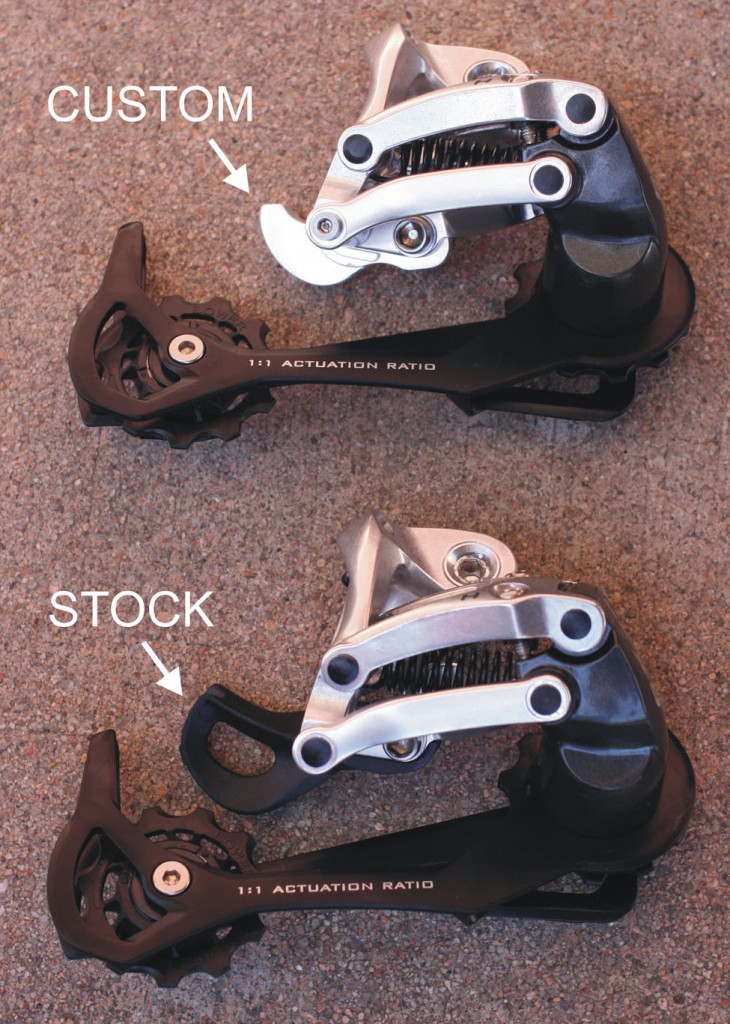 When is the best not good enough?
Even though we offer a wider range of gears than any other bicycle in the industry, we occasionally have a need for gearing a little lower. The Campagnolo rear derailleurs we have been using for years do not work well with rear cogs larger than 29 tooth. We do not want to give up the reliability, rebuildabilty, comfort and front derailleur trim that only Campy Ergo shifters offer, but ten speed chains are proving to be too finicky and not very durable. Keeping to our Credo of "Drawing outside the chalkboard" we modified SRAM X9 Long cage and Medium cage derailleurs to work with Campy shifters. Now you can use any Campagnolo ten speed Ergo shifter and SRAM or Shimano compatible 9 speed cassette together. The CNC machined aluminum cable guide replaces the plastic one on the back of every X9 or X7 derailleur.
Available models:
C0-9 Campagnolo 10 Speed Shifters and Shimano/SRAM 9 speed Cassette.
S0-9 Shimano 10 Speed Shifter and Shimano/SRAM 9 speed Cassette.
Long Cage – Max rear cog 34 tooth – Chain wrap 45 tooth
$135
---
Maintenance Items
9 Speed chain. KMC X9.93 in custom lengths w/Quick Link
If you have a custom Extra long rear top tube, order a "Drive Chain 124 Links" for the front timing chain.
If you have chainstays longer than 17″(43cm) or a rear cassette with a cog bigger than 36 tooth, please contact us for a drive chain longer than 124 links.
---
Replacement 34 tooth Spider/Chainring – This replacement chainring only fits da Vinci cranks. $40
---
---
---
Finish Line Extreme Fluoro 20g Syringe – This is the Grease to use on your S&S Couplers $15
---
Double Freewheel Block (DFB) Tool $18
---
Soon to be added: Freewheels